illustrative
The first Illustrative I was involved with was in Paris in July 2009. The Illustrative showcases a selection of the best of European Illustration chosen by a panel and invited to exhibit. This work is then showcased at  a European city every year with an Illustration symposium and events.
For the first couple of exhibitions I showed a selection of works that had been produced for commercial commissions. For Berlin 2009 and Zurich 2008 I wanted to produce pieces specifically to be seen in an exhibition setting.
The first piece I decide to produce was a portrait of a my Uncle Arthur. Uncle Arthur was an amazing person who raced Norton motorbikes in his twenties and thirties and smoked like a trooper. His face was fascinating to look at so many creases and folds and  decided to do a portrait of him.
This was  worked on for many weeks,  to achieve the final piece that I was happy with.
I never took a picture of him formally but this was based on a picture taken at a family card game at Christmas. Uncle Arthur was a demon at cards,  had an unreadable "poker" face, and often he was one of the last two remaining players at long games on Christmas day.  Very happy to relieve us of all our "shrapnel" ( coins) when he raked in the kitty ( winnings) in the middle of the card table.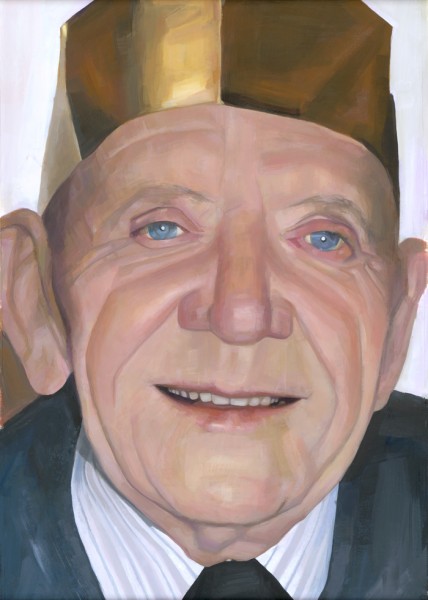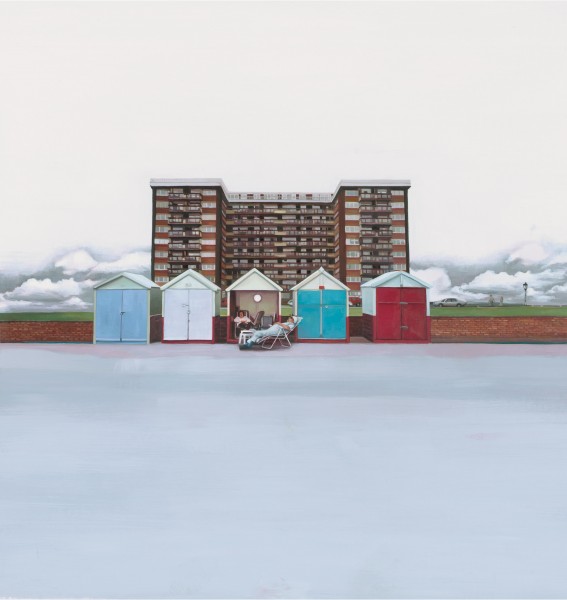 The second piece that I produced was on a theme of British Urban Spaces. Having recently visited Brighton  on what should have been a hot day, but was one became overcast and thundery I spotted and photographed two pensioners "cloudbathing".
They were determined to enjoy the British "summertime" whatever the weather. When I got home and looked at the photographs they seemed to have an eerie feel, with a Hopper- esque scene happening in the background.
The grimness of  the tower block contrasted perfectly with the "cheery" colours on the doors of the beach houses. The characters themselves are blissfully unaware of our gaze as they snooze away it seems anything could happen in this dreamlike setting.
This image is a Bronze award winner in the Self Promotion category of Images 2012
Closer inspection of my work
The Illustrative exhibition spaces are always exciting